Fabrication of Dance Masks

A body mould is moulded from clay on a scale of 1:1. Then there is produced a plaster cast from this body or original mould. There is applied plaster over this clay mould in several layers, afterwards the entire construction is dried.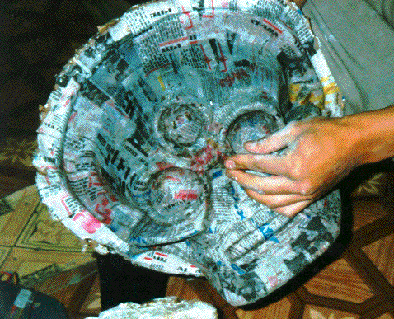 Body or original mould in plaster

On the inside this original mould (plaster cast or model) is coated, in several layers, with paper, and it is strengthened by means of cloth. The thickness of the layer is determined according to whether there is to be fabricated a head mask or a wall mask. There is applied one layer after the other, subsequently there is to follow a drying step.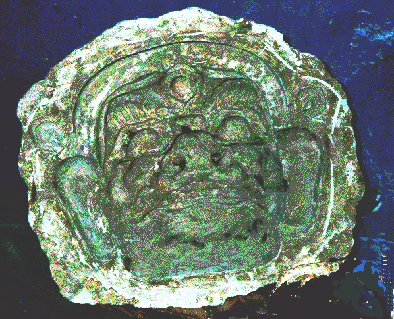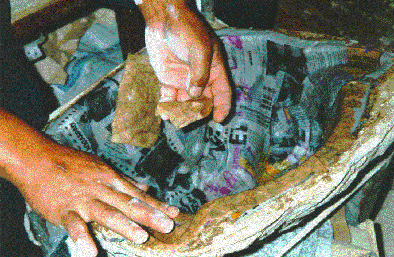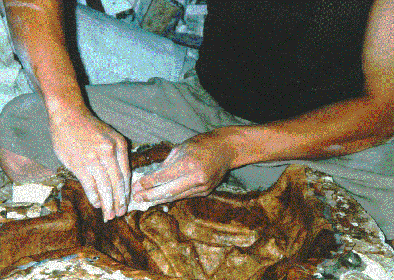 Paper and cloth are applied layer upon layer
The dried paper-mâché is removed and dropped to the floor in order to check quality. If the body mould does not break, quality is excellent and the substance may be further processed.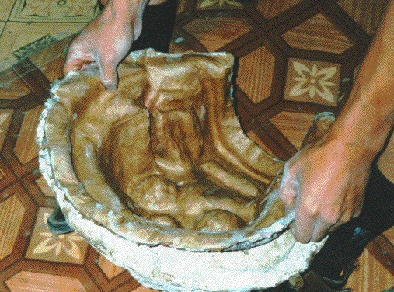 Mould made from paper-mâché is removed from plaster cast
This body mould is then coated with a white and very "granular" alloy and, subsequently, polished for a very long time with a fine polishing paper until the mask structure becomes really smooth. This is a rather long and time-consuming working process.
Then eyes, horns, and ears are attached. In the next step, the body mould is precoated and painted. The colour is then protected by means of a lacquer coating. Finally the crowns made from skulls or emblems are attached, and further jewellery (earrings, corals, etc.) is applied thereto.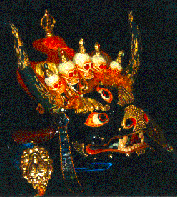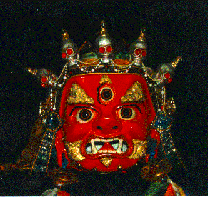 Fabricated masks: Tshoijoo - Jamsran
Ulaanbaatar, September / October 1999 - Albi
English translation: Hermelinde Steiner