- Catalog (in stock)
- Back-Catalog
- Mail Order
- Online Order
- about Artists
- Sounds
- Workshops
- Instruments
- Projects
- History Face
- ten years 87-97
- Review Face
- Photos - Artists
- our friends
- Albis Face
- Albis - Photos
- Albis Work
- Links

- Home

- Contact

- Profil MySpace
- Profil YouTube
- Overton Network
P & C December 1998
- Face Music / Albi
- last update 03-2016




Traditional music and dance from the Uganda people
- Workshop with members of the Naggalabi Indigenous Theatre
Africa is inhabited by different ethnic groups, each with a musical tradition of its own. Ugandan music is generally rhythmic, and the complexity of these rhythms varies due to the difference between the ethnic groups. These differences are also reflected in the varied instrumentation. Some musical genres are played on simple instruments while others, especially the dance music, are played in ensembles of complex instrumental formation. African music is usually pentatonic, but a few tribes also use a hexatonic scale. Most of the Ugandan vocal music is accompanied by traditional instruments. The literature embedded in vocal music is purposely meant to transform the social communities, i.e. in their structural adjustment.
Although Uganda is inhabited by a large variety of ethnic groups, a broad linguistic division is usually made between the Bantu-speaking majority, who lives in the central, southern and western parts of the country and the non-Bantu speakers, who occupy the eastern, northern and north-western portions of the country (these may be sub-divided into Nilotic and Central Sudanic peoples).
-
Quartet & Ensemble Nit
- Traditional music and dance from the Uganda people - East Africa
With members from the Naggalabi Indigenous Theatre (NIT), a community of artists with a centre in Naggalabi for local, traditional and contemporary arts and crafts. The institution was founded by Sylvia Namulema Kigula and Eric Jjemba Lutaaya and is located in Nsangi su county Wakiso district, Uganda.
-
Naggalabi Indigenous Theatre


| | | | |
| --- | --- | --- | --- |
| | | | They belong to forest people of small stature who are also called Pygmies (this also refers to people of low average height, perj. dwarfism) and who live in the rain forests surrounding the Rwenzori Mountains in Uganda. |

Music from Georgia


- Workshop with members of Mzetamze

Mzetamze is an ensemble for traditional music of Georgian women at the Methodical Centre for Folk Art and Culture in Tbilissi.
All six singers are also ethnomusicologists and work as teachers. Thanks to their fields of special interest, they can offer you very good insight into the variety of the traditional Georgian music and their researches. Ketevan Baïashvili studies the Georgian mourning-customs and is the director of a folklore studio for children in the foothills region of Tianeti; Nino Shvelidze is a scientific assistant at the Folklore Centre in Tbilissi and teaches at a music school; Ketevan Nikoladze works on the contexts of polyphonic singing and the double flutes of western Georgia; Nato Zumbadze studies the women's song repertory tied to customs; Nino Macharadze does research into Georgian lullabies and the semantics of words composed of nonsense syllables used in Georgian songs; Nana Valishvili works on references about folk music in Georgian literature. In autumn of 1986, these six women founded their folklore ensemble, which has been supported by the Scientific Centre for folk Art and Culture since 1988. The ensemble's name Mzetamze means "sun of the suns" and derives from the astral cult of the sun. In the ancient beliefs and folk customs of Georgian tribes, the sun is the symbol for the light and fertility connected with the female origins of the cosmos and our world.

Mzetamze's workshops on chants of the various regional styles are held in German and eventually also in French or English. Besides the vocal music, introductions are offered into the basic playing techniques of traditional instruments

- Ensemble Mzetamze - female ensemble from Tbilissi




Music & Dances of the Ukraine


- Workshop with members of Khreshchaty Yar

The ensemble was founded in June 1990. All members of the ensemble have either studied at the conservatory or at the music-college in Kiev and work as professional musicians today.
Their traditional music is predominantly heterephonic: the same melody is distributed among different voice parts, with one leading voice, mostly in a middle register. The lead singer (zaspiwoowach) determines the course of the melody and the other voices come in later. This heterophonic group singing is often embellished by an indipendent voice in a very high register (wywodtshyk).
The principle of heterophony allows the principal voice much space for improvisation, continous variation and embellishment. It has also an effect on the lyrics, in so far as single words or phrases are lengthened with vocalisms or entlarged with additional syllables.
The Cossackdom played an important role in the area of the modern Ukraine. In the 16th century, Cossack communities were established in southwestern, southern and southeastern regions of Russia, in the region of Moscow, in Belorussia and in the Ukraine.

Khreshchaty Yar organizes workhsops (in German or English language) about the chants in the different regional-styles. Besides vocal music, they offer introductions into the basic playing thechniques on traditional instruments.

- Ensemble Khreshchaty Yar - mixed vocal and instrumental ensemble from Kiev





Oriental Roots
- Workshop with Levent Yildirim and Misirli Ahmet from Turkey
Levent Yildirim
has established himself, together with his brother Misirli Ahmet (Ahmet Yildirim), with the tabla technique in the world of the darbuka. Misirli is regarded as a master and founder of this technique. At the age of 16, Levent started to play the darbuka, and he was greatly influenced by his brother. Levent started his first musical tours within Turkey, in Europe, the Middle East and in Latin America. Acquaintances with musicians from these countries have enriched his playing and his musical experiences. Levent has released two albums. A first one is called "Dialogue", in 2005, in co-operation with "Le Chant du Monde / Harmonia Mundi", and a second "Neverland Fusion" in 2007, also at "Le Chant du Monde / Harmonia Mundi". Levent with his percussion talents offers to provide his knowledge to others by way of concerts and workshops.
His brother Misirli was born as Ahmet Yildirim in 1963 in Ankara. At an early age, Ahmed was the first to experience the rhythms and sounds on the darbuka. None of his family had ever been related to any kind of musical background. So everything started to develop by way of autodidact learning. He played an active role in terms of music in Ankara until 1987. At that time, his nickname among musicians was "Sakal Ahmet" (the bearded Ahmed). He spent some time in France. In 1988, he discovered his own way of playing the darbuka. Misrili was simply dissatisfied with the traditional Turkish playing technique that is commonly referred to as "Fiske" (or "finger snap technique"). In order to improve the technique they had discovered, Ahmet and his brother Levent decided to go to Egypt. The reason for this decision was rather simple: "Just as the home of Blues is to be found in New Orleans, the Orient is the home of the tabla technique, an Arabic rhythmic culture, with the melting pot being Cairo." Of course, there were present many Turkish artists, musicians who had worked in Egypt, but had not gotten involved with the darbuka and its rhythms. Following a turbulent start with hard months in the beginning and nearly any possibility of sustaining themselves, they finally succeeded and started first collaborations with leading musicians in Cairo, with Fathy Salama at Sharkiat to be mentioned, among others. The brothers furthermore toured Europe, with, among others, Hossam Shaker, one of the most important canun players so far. Here they also developed their play with the ceramic (earthenware) darbuka and replaced the previous conventional metal or copper produced so far.

The darbuka is an instrument with a long history that has never before been thought of a voice or as a solo instrument in the traditional discipline. It had been regarded as indispensable accompaniment of an orchestra, dance and vocal music in the Middle East and North Africa. The dream of opening an academy for the darbuka became reality in 2007 - with the aim to train new masters of the darbuka. There is being shown how rhythm may also be used as a therapy tool.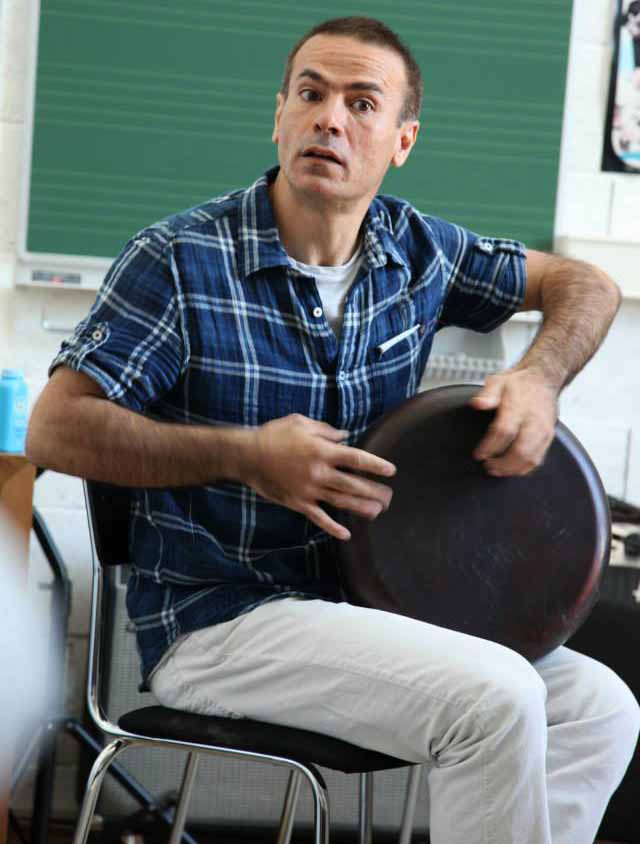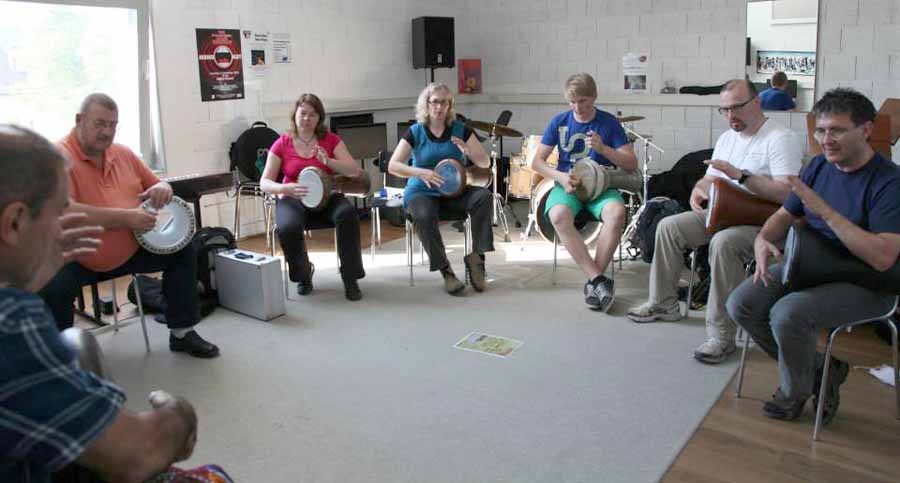 There are fundamental activities for people who love the rhythm, but have not played any instrument so far.
Activities for people who have a musical background and want to improve themselves.
Activities for professional musicians with the title "Master Class".
Activities for people who are looking for self-discovery through harmony to one's own rhythm of life. Rhythm is balanced to produce harmony for people who want to find their own rhythm to the "self", in harmony, freedom and happiness.
PageTop