- Catalog (in stock)
- Back-Catalog
- Mail Order
- Online Order
- Sounds
- Instruments
- Projects
- History Face
- ten years 87-97
- Review Face
- our friends
- Albis Face
- Albis - Photos
- Albis Work
- Links

- Home

- Contact


- Profil YouTube
- Overton Network
P & C December 1998
- Face Music / Albi
- last update 03-2016



- Olga Abramova: director

- Elena Sazontova: voice, viol, perc, kugikly (tubular wood block)
- Irina Borodina: voice (high register), kugikly (tubular wood block)
- Igor Sazontov: voice (lead singer), gudok (fiddle), bandura (accordion), gùsli (wood zither), svirel (reed pipe), timbrel ring, perc
- Dmitri Olkhovski: voice, spoon, perc

The Ensemble Pesnokhorki (formed by: pesnya - song and khorki - choir) was founded in 1979 by Olga A. Abramova. After her studies at the Conservatory of Saratov, upon the recommendation of her teacher, Prof. L.L. Christiansen, she started travelling in favour of the ethno-geographical field-research of music of the Altai. In Barnaul, in the region of Altaiski Kray, southern Siberia, she was to achieve her project, i.e. to found an ensemble, whose tour activities are based on field-research. The members of the group are ancient graduates of the Conservatory of Barnaul, as well as students of several local music schools. They teach nowadays at the Folk Center Pesnokhorki in Barnaul, directed by O.A. Abramova, where approx. 200 children and adolescents are taught in the traditional music of their ancestors; they are taught choir singing, playing the traditional instruments and folkdance and receive a basic training in music.

The repertoire of the Ensemble Pesnokhorki is composed of songs that are recorded directly in the dense encounters during ethnographical expeditions in accordance with the upholders of the old tradition. The performance of the pieces is not only based on the idea to preserve the songs of the colonizers from the different regions of Russia, but also on the representation and the design of the original costumes from local traditions.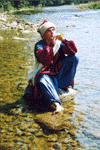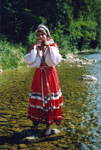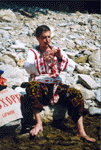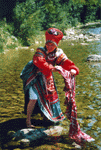 Dmitri, Irina, Igor and Elena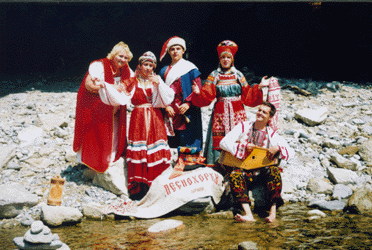 Ensemble Pesnokhoki