- Catalog (in stock)
- Back-Catalog
- Mail Order
- Online Order
- Sounds
- Instruments
- Projects
- History Face
- ten years 87-97
- Review Face
- our friends
- Albis Face
- Albis - Photos
- Albis Work
- Links

- Home

- Contact


- Profil YouTube
- Overton Network
P & C December 1998
- Face Music / Albi
- last update 03-2016



1. Maqruli - wedding song, Kakheti (Telavi) - 2:31
2. Tsangala - dance song, Kakheti - 2:00
3. Sakortsilo supruli - wedding table song, Ratcha - 2:07
4. Mival Guriashi... - I'm go to Guria - Guria - 2:38
5. King Tamar - ring dance song, Kartli, Kakheti - 1:22
6. Apkhazuri perkhuli - ring dance song, Abkhasia - 2:06
7. Eukunat kakutebs... - work song, Samegrelo - 2:53
8. Diambego - table song, Kakheti - 3:30
9. Khert'lis naduri - Naduri of the Handle - work song, Atchara - 1:04
10. Kakheta qivis guguli... - Cuckoo is crowing in Kakheti..., Tusheti - 2:02
11. Megruli satrpialo - love song, Samegrelo - 3:17
12. Didi khnidan... - For a long time... - love song, Guria - 1:48
13. Jilveloi - love song, Lazeti - 3:45
14. Akvnis simghera - Cradle song - antiphonic ritual ring dance song, Atchara - 1:27
15. Patara saqvarelo... - Little and lovely... - love song, Kartli, Kakheti - 2:32
16. Shamarera - ring dance song, Svaneti - 1:52
17. Kakhuri shairebi - verses, Kakheti - 2:34
18. Ia da vardo, Tamaro... - Violet and rose, Tamar... - round dance song, Kakheti - 1:45
19. Mtsqemsebis simghera - sheperd song, Tusheti - 1:45

| | |
| --- | --- |
| | |

The Folklore Ensemble Patara Georgika (i. e. small Georgika) of the Guram Ramishvili School no. 20 in Tbilissi was founded in 1995 by Guram Ramishvili (professor of linguistics and founder of the school), Thomas Häusermann (Swiss specialist of Georgian studies), David Shanidze and Shalva Lortkipanidze (directing the ensemble Georgika and teaching the young members of Patara Georgika).

Under their direction Patara Georgika participated together with its folk dance group at the VII. International Youth Music Festival 2002 in Switzerland and made a contribution to the film "Wie die Luft zum Atmen" by Ruth Olshan, which was released in 2005 (Aquafilm Köln). Patara Georgika was awarded for several times in Georgia and in Turkey.

Currently, it is directed by the 27-year-old singer Paata Meladze. Together with his students he looks for and renews folk songs, organises expeditions to different places in Georgia, records songs and learns them on-site.

A repertoire in songs, specifically tailored for children, exists in Georgia (as anywhere else) only since singing has been introduced as a subject to school. Songs composed with pedagogical motivation are not to be found on this CD. Patara Georgika follows the example of the first schoolbook of the Georgian language Deda Ena (1867) by Jakob Gogebashvili (1840 – 1912) which already contained an attachment of texts and notes of songs, not actual children's songs, but folksongs from the repertoire of adults, which seemed suitable for teaching at school (cf. no. 18, from a youth collection published in 1921). On the other hand, songs focusing on children, belonging in fact to the women's repertoire have a long tradition and a wide variety of styles (cf. no. 14 cradle song).

The traditional Georgian part-singing extends over a relatively narrow vocal range. There are no mixed chorals in the Georgian folklore. Therefore, Patara Georgika is a pure boy's ensemble. One of the not so rare exceptions of this rule is no. 17, a character song, where a girl, Keti Mishveladze, replies to the boys.

The traditional complement, soloists for the 1. and 2. voice, but a group for the 3. voice (bani) would not work with a children's ensemble. For this reason only the unaccompanied beginnings are performed by a soloist. The performance by three soloists in Western Georgian songs (no. 4, 7, 12 and 19), however, conforms to the tradition.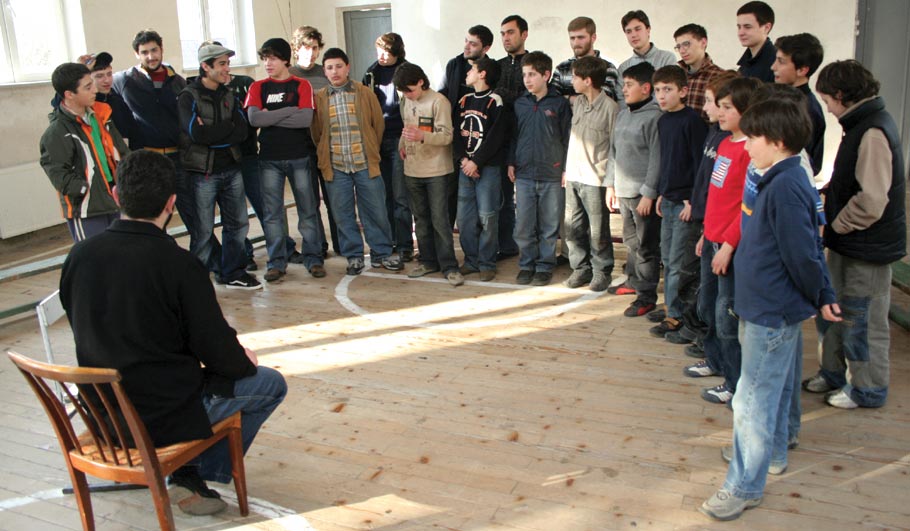 Songs

1. Maqruli. Wedding song, Kakheti (Telavi)
- Starting solos: Konstantine Tagauri, Giorgi Dzotsenidze

Haralo… / we are coming, we are glad, / we are bringing a red pheasant,
Haralo… / pheasant for us, hawk for you, / we've caught both of them,
Haralo…

Maqruli is a song performed at wedding parties, mainly antiphonic (by two alternating choirs). Patara Georgika uses, with slight simplifications, two versions of the Telavi choir, the older directed by Piruz Makhatelashvili, the later one by Andro Simashvili.


2. Tsangala. Dance song, Kakheti
- Soloist: Misho Goderdzishvili; doli (drum): Dito Sakandelidze

Tsangala da gogna… [Tsangala and the girl…], / this boy is performing well, he is even standing on his toes; / if he hurts his foot, whose fault will it be?
Tsangala da gogna…, / Tsangala went to Kakheti and brought grapes; / he didn't give me any of them; he dug a grave for me.
Tsangala da gogna…, / he didn't give me any of them; he dug a grave for me; / the grave turned out to be narrow and sliced off my sides.
Gogona da gogona…, / move your feet to and fro, as if it were a chianuri [3-stringed knee violin]; / don't touch the neighbour woman; she's close as a family member.
Tsangala da gogna…, / you got to like nobility; to wear your hat askew, / to stroll on the market to and fro and to provoke a fight.

Tsangala is a nickname for a young cheerful boy, a good singer, dancer and versifier. In line 7/8 the text hints at the severe traditional exogamy which classifies each and every habitant of a village as "brothers and sisters".
This song was usually performed at feasts. Its commonly known text has been enriched by a version given in Giorgi Javakhishvili's book "Tracing song and verse", Tbilissi 2004.


3. Sakortsilo supruli. Wedding table song, Ratcha
- Starting solo: Yona Khutsishvili

Aralo ari da lalo…, / aralo, even if we drink much, / aralo, we won't be able to empty this kvevri [pitcher dug in the earth], if it is wide,
aralo, I prefer a small and full pitcher, / aralo, to a big and empty one,
aralo, let our host get rich, / aralo, and the best men be handsome.

Handed down to the ensemble Berika by Giorgi Donadze, native from the mountainous region Ratcha in West Georgia.


4. Mival Guriashi... - I'm going to Guria..., Guria
- Soloists: Konstantine Tagauri (I), Giorgi Dzotsenidze (II), Yona Khutsishvili (III and chonguri)

I am going to Guria, but / my soul has already hurried there secretly, / I followed it but it didn't return, / it would not even take bribe-money. // My beloved one / you remain in this country, but / I will visit you early, / never will I leave you, never, never.

5. King Tamar. Ring dance song, Kartli, Kakheti

King (!) Tamar and the Sultan / the Almighty God made them quarrel. / He put a big ship to sea, / he hung it with diamonds, / he put the Georgian army in it / and promised manifold mercy.

This antiphonic song has been edited in 1896 by Zakaria Chkhikvadze (1862 - 1930) in his collection of songs Salamuri 1896. Regarding the ring dance songs in Eastern Georgia Romanoz Dzamsashvili, member of a singer's family from the 19th century, said: "There are two types of the Kartli-Kakhetian ring dance songs: the maqruli and the shavlego types. King Tamar belongs to the shavlego type. (G. Javakhishvili, "Tracing song and verse").


6. Abkhasian ring dance song, Abkhasia
- Soloist: Mikeil Gagoshidze

A fairly rare and unknown song, to be found only in old archive recordings. Despite its complexity the young singers of Patara Georgika successfully overcome its difficulties.


7. Eukunat kakutebs... Work song, Samegrelo
- Soloists: Mikeil Gagoshidze (I), Misho Goderdzishvili (II) and Tariel Kharebava (III)
- Chonguri: Yona Khutsishvili

Let us lift the tiles, / time will change our colour. / We give to the whole country / the evidence of kind working. / The idle one eats meals prepared by others, / the idle one doesn't think of working, / the idle one is always a parasite. / The idle one makes others' burden heavier. / Let us deprive him of food forever, / let us erase the foodprints of the scapegrace / throughout the whole country, / let us get rid of traitorous ones unwilling to work.

After old recordings. Text in Megrelian language. The communist propaganda often used folk songs with modified text.


8. Diambego. Table song, Kakheti
- Solos: Konstantine Tagauri (I) and Giorgi Dzotsenidze (II)

Diambego, diambego, I will tell you a good thing, / diambego, diambego, they praise your daughter, diambego, / she stands on the balcony, lets her crystal fingers play, / she lets her crystal fingers play, on the laid-out carpet.

In the past, judges were called diambegi. Patara Georgika performs this table song in a version of the Tsinandali's ensemble.


9. Naduri of the Handle. Work song, Atchara
- Solo: Konstantine Tagauri

This song was recorded by Evsevi Chokhonelidze in Batumi in 1973. First audio-publication by Ensemble Mzetamze vol. I, no. 3, Face Music.

Oy, nani da nana, the spindle has rubbed sore my hand, / the spindle, would that it break. / He promised me, he deceived me, / he, would he break his neck. / On the flax comb there remains yarn, / for you I still have respect. / To the well I drove the oxen, / the red ones, the horned ones. / The girl with whom I had a date, / has hair down to her ankles. / The spindle has rubbed my hand sore, / the spindle, would that it break.


10. Kakheta qivis guguli… - Cuckoo is crowing in Kakheti..., Tusheti
- Soloist: Sandro Murvanidze
- Panduri (3-stringed plucked instrument in Eastern Georgia): Khvicha Khvtisiashvili

The cuckoo is crying in Kakheti, times when you hear him, times when you don't, / Kochauridze is ill, will he stay or soon be gone? / "I will no more wear, you, slippers sewn by my mother, / I will no more take you to the valley, victuals prepared by my wife, / I will no more sit next to you, cool spring at the entrance of Shilda, / I will no more leave a trace to you, Leks wandering around."

The Tusheti region is situated in the Caucasian high mountains; the village Shilda in the wide valleys of the Kakheti region. Many Tushes had kept houses in both areas, and lived there according to the seasons. The Leks, a Daghestanian mountain people, frequently broke into these fertile regions and robbed the locals.

This song, as no. 19, "Song of the Shepherds", has been taken from the records of Lela Tataraidze, a Tushetian singer, who remade many songs from Tusheti.
11. Megruli satrpialo. Love song, Samegrelo
- Soloists: Mikeil Gagoshidze (I), Misho Goderdzishvili (II) and Tariel Kharebava (III)
- Aleko Khizanishvili (chonguri)

I think of you day and night, delia na na na, / my heart is burnt with love for you, delia na na na. / You are a rosebud blooming in Paradise delia na na na. / Don't kill me before the time of my death, please send a word at least, delia na na na, / delia delia na na, delia delia na na da.
You are always close to my heart, delia na na na, / from the moment I've seen you, delia na na na. / Dry up the tears on my eyes, let me see your face, delia na na na, / let my dream come true, show such kindness to me, delia na na na, / delia delia na na, delia delia na na da.
What shall I without you? Delia na na na. / I'd be a useless being, delia na na na. / My heart will rage like the unfortunate sea, delia na na na. / If your love kills me, you will be blamed, delia na na na, / delia delia na na, delia delia na na da.

This song with a text in Megrelian language was renewed by the ensemble Lashari.


12. Didi khnidan... For a long time... Love song, Guria
- Soloists: Konstantine Tagauri (I), Giorgi Dzotsenidze (II) and Yona Khutsishvili (III)

I've known you for a long time, may God keep evil away from you, / you are unbelievably beautiful; you have a nice face and neck, / your parents may be praised to have given you birth. / Who has brought you up to such beauty, you, the killer of my heart.


13. Jilveloi. Love song, Lazeti
- Soloist: Misho Goderdzishvili
- Chonguri and chiboni (bagpipe): Aleko Khizanishvili;
- Panduri: Khvicha Khvtisiashvili

Through the kindness of Bayar Shahin Gumbaridze, a singer from a Kartvelian minority in Turkey called Laz; this love song could be passed on to Patara Georgika.

I looked out in the morning, / you were going down the road, / and the apron you wore, / suits you well.
High, high up flies the vulture, / beneath it up and down the sparrow hawk. / Glancing at the beloved / I almost missed dinner.
I went through brooks and rivers, / through muddy water. / I saw a girl, / she had a basket on her arm.
There came a white pullet, / hither with cackle. / When I saw the beauty, / my heart began to tremble.


14. Akvnis simghera - Cradle song. Antiphonic ritual ring dance song, Atchara

This ring dance song is connected with the ritual of the infant's first sleep in a cradle. It was recorded 1989 by Nana Valishvili, published in Nino Kalandadze's collection of songs "Georgian Folk Music for Children" (Tbilissi, 2004). First audio-publication by Ensemble Mzetamze volume II, Face Music no. 17.

Nai nai ninai nano, this cradle is turned on the lathe. / Nai nai ninai nano, inside a boy picture-perfect. / Nai nai ninai nano, this cradle is made of chestnut tree. / Nai nai ninai nano, the one inside may run. / Nai nai ninai nano, this cradle is made of nut tree. / Nai nai ninai nano, the one inside may be joyful. / Nai nai ninai nano, this cradle is made of mulberry tree. / Nai nai ninai nano, the one inside may be as a crystal.


15. Patara saqvarelo... - Little and lovely... Love song, Kartli, Kakheti
- Starting solo: Giorgi Dzotsenidze

Little and lovely, / he, he, why did you kill my heart? / Refrain: livliv kalo, saqvarelo, liakhvo, vai tu da liakhvo he.
Girl, black-eyed girl, / he, he, a boy reports to you: / Refrain: livliv …
Either you follow me, / he, he, or you give me back my knife. / Refrain: livliv...

Patara Georgika sings this song, better known as gogo, gogo shavtvala, in a version handed down by the singer and ensemble's director Maro Tarkhnishvili (1891 - 1969), who attaches the first two lines to the text.

16. Shamarera. Ring dance song, Svaneti
- Starting solo: Lasha Mushkudiani

The ring dance song stems from the lore of the Kirtkheliani family from Latali village, located in Svaneti, a West Georgian high montainous region, where a language differing from the written Georgian is spoken. A slow, slightly simplified introduction is followed by increasingly shortening and rapidly developing antiphonic sections sung by two alternating groups.


17. Kakhuri shairebi. Verses, Kakheti
- Soloists: Giorgi Dzotsenidze, Misho Goderdzishvili, Keti Mishveladze, Avto Surmava
- Panduri: Tariel Kharebava

- Giorgi: You are so eager to improvise verses in the middle of spring, / I will find out easily, what is in your hearts. (Refrain)
- Avto: You always blame it on the age, when croaking interferes with the voice, / when you mix singing and verse recitation. (Refrain)
- Giorgi: Child, look at me, are you Keto, are you Savle, / your matchmaker I would be, to fill your heart with joy. (Refrain)
- Keti: If I really wanted to marry, it would be difficult / for you to matchmake; you would have nothing to do. (Refrain)
- Avto: You go from village to village, acting completely foolish, / where can one otherwise find so many crazies at once? (Refrain)

- Refrain: Heri,lad,herio, I sing even for that / if we enjoy ourselves so much, what can the enemy hurt us, / heri, lad, herio, I sing even for that.

Recorded 1986 by Nat'o Zumbadze in the district of Qvareli; first audio-publication by Ensemble Mzetamze (vol. I no. 38). The shairoba, a competition in extemporised verse, is a special entertainment, where girls and boys also occasionally take part in. New verses are constantly improvised to more-or-less set musical forms.


18. Ia da vardo, Tamaro... - Violet and rose, Tamar ... Round dance song, Kakheti
- Starting voice: Giorgi Dzotsenidze

Violet and rose, Tamar, / you are the radiant morning star, / you have opened the gates of Heaven, / I've been everywhere on earth, / in France and in the Egypt's land, / nowhere could I find a woman / equal in beauty to you, / violet and rose, Tamar.

Published in Ia Kargareteli's (1867 - 1939) book of "Collected Youth Songs" (1921).
As song no. 5, it documents the mythical dimension that the Georgian Queen Tamar (appr. 1160-1207) got in people's memory.


19. Mtsqemsebis simghera. Sheperd song, Tusheti
- Panduri: Khvicha Khvtisiashvili

Singing we come down the mountains, shepherds, exhausted and tired, / we've left Tusheti and the Caucasus ranges behind us.
I also love you, Kakheti, wide meadow of the Alazani river, / you, deer on the summer clearing, reeds on the river sides of the Iori, pheasants crawling in the thicket, beautiful and bull-eyed, / you, plain of Shiraki, mother of the sheep, full of herds of gazelles.

Many Tushes were herdsmen. They spent the summer in the heights of the Caucasus, and winter in the plain of Shiraki at the borders of Georgia to Azerbaijan.

The first stanza of this song is folk poetry, the second and the third ones are written by the poet and collector of folk songs Tedo Razikashvili (1869 - 1922).

As a lot of folk poetry texts, it is also to be found in other songs. Therefore it has been often considered as an authentic Georgian folk text (see G. Javakhishvili, "Tracing song and verse").
Paata Meladze, Thomas Häusermann
Translated by Nutsa Amirejibi and Mateja Delas

Instruments

- Panduri
Eine dreisaitige Laute, mit drei bis sieben Bünden ist in ganz Ostgeorgien (Kartli und Kakheti) verbreitet. Die Berggebiete (Phsav-Khevsureti, Tusheti) kennen besondere Varianten.
Klangkörper und Hals werden aus einem einzigen Stück Holz gefertigt; nur die Schalldecke aus Tannenholz wird aufgesetzt. Durch die Bünde wird die Oktav in 7 Stufen mit mehr oder weniger gleichem Abstand geteilt. Das führt zu engen Sekundschritten, weiten Mollterzen und Quarten und tiefen Quinten, die für das an die temperierte Stimmung gewöhnte Ohr falsch klingen, aber für die traditionelle Harmonik georgischer Musik charakteristisch sind. [the characteristic flat-fifth tuning is the result of the trets that divide the octave into seven roughly equal steps, producing a low major second, a high minor third and a high fourth, all of which are consistent with quartive scales, but also a low fifth, which is unique].

Es gibt verschiedene Stimmungen, Häufig werden die zweite Saite um eine kleine Terz, die dritte um eine Quart höher gestimmt. Heute werden auch Panduri mit temperierter chromatischer Stimmung hergestellt. Dazu gehört die sog. Bass Panduri, die zur Erweiterung des für die georgische Musik charakteristischen engen Tonraums für neuere Stücken geschaffen wurde.






- Tshonguri / Chonguri
Heisst die Laute der westgeorgischen Talregionen Samegrelo, Imereti, Guria, Atch'ara. Ihr Klangkörper ist aus mehreren Spänen zusammengesetzt. Bünde gibt es auf ihrem langen Griffbrett nicht. Sie besitzt vier Saiten, von denen die am höchsten gestimmte, an dritter Stelle verlaufende ("zily" genannt) kürzer ist. [the higest and unfingered half-length drone string]. Ihr Wirbel befindet sich in der Mitte des Halses, so dass ihre Tonhöhe nicht verändert werden kann. Beim Spiel auf der Tschonguri werden seltener alle 4 Saiten angeschlagen, ihr Klang ist weniger geräuschhaft und trägt länger als der der Panduri. So kommt die hohe Bordunsaite nicht immer zum Einsatz. Es gibt verschiedene Stimmungen; häufig ist der Dur-dreiklang mit oktavverdoppeltem Grundton.



- Doli (percussion instrument)

Double-headed cylindrical drum.