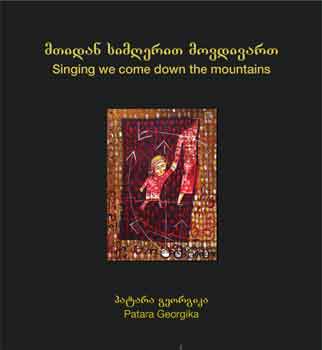 Vocalists of Patara Georgika:

- 1. voice: Micheil Gagoshidze (solo), Avto Surmava (solo), Konstantine Tagauri (solo), Rezo Dzneladze, Saba Gaprindashvili, Otar Gogoladze, Archil Kobalia, Giorgi Kochlamazashvili, Archil Luarsabishvili, Giorgi Kupatadze, Aziko Pilia, Vakho Rukhadze, Lekso Sulakvelidze, Sandro Tughushi.

- 2. voice: Giorgi Dzotsenidze (solo), Misho Goderdzishvili (solo), Sandro Murvanidze (solo), Irakli Jincharadze, Nikoloz Mamatsashvili, Gabriel Tagauri, Giorgi Tagauri.

- 3. voice (bani): Iona Khutsishvili (solo), Tariel Kharebava (solo), Lasha Mushkudiani (solo), Tornike Ebanoidze, Shota Kimotidze, Tornike Meladze, Tornike Nijaradze, Dato Rostomashvili, Sandro Samadashvili, Giorgi Turmanauli, Sosso Tughushi.

Instrumentalists:
- Yona Khutsishvili: chonguri, Tariel Kharebava: panduri.

The panduri in no. 10, 13, 19 is played by Khvicha Goderdzishvili, the chonguri and the chiboni in no. 13 by Aleko Khizanishvili, both members of the ensemble Georgika.


- Produced by Albi "Face Music"
- Recorded and mixed by Sano Studio Tbilissi, Giorgi Kutateladze, in March / April 2007
- Mastering by Hansjürg Meier, Tonspur AG, CH-8730 Uznach SG - June 2007
- Design by Giorgi Shotadze
- Cover picture by Lasha Kintsurashvili
- Photos by Beso Gelashvili and "Albi"
- Art concept & layout by "Albi"

Special thanks to Lasha Kintsurashvili for the permission to use one of his paintings.